If you have had to throw away your PDA or phone because the screen was busted or, if you are having trouble reading your LCD screen where there is a lot of light then, you may want to read this entire nushield screen protector review to see how this film can help. As a leading manufacturer of screen protectors and touch screen overlays, NuShield offers individuals much needed assistance with LCD screens that would normally require protectors to be able to use in the sunlight. This is true, especially nowadays, where technology makes it easy for people to incorporate gadgets with screens in their normal day-to-day activities.
The downside to having a new sleek digital camera, PDA, LCD monitor or HDTV is that every now and then, the screen may meet some damage and if not taken care of in the long run, such damage could render the entire product useless. What  a nushield screen protector does is protect otherwise vulnerable screens from damage which would call for immediate and expensive replacement; at the same time, it minimizes the glare usually caused by such screens.
NuShield DayVue Quick Review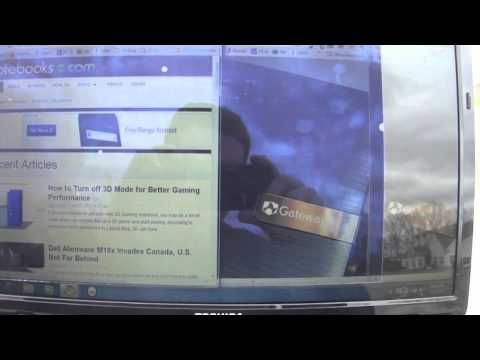 Note: NuShield Carries a low variety of products, for more selection and better protection you can use Bodyguardz or the Zagg invisibleShield
Read our: Bodyguardz Review and our Zagg invisibleShield Review
NuShield Screen Protector Features:
Protection from indoor glare
No screen residue
Scratch resistance
UV light filtering
Cleans fingerprints
Multiple sizes
Outdoor glare protection
How To Install a NuShield
NuShield's instructions make it very easy to install this gadget; although, I have found that some people complain about the clarity of the instructions and would prefer to install it without the instructions. Either way, the process is easy enough and can be accomplished by inserting the edges of the protector between the PDA and screen.
So you may be wondering how exactly to install this film on your laptop screen or phone; well, the film comes in all sizes and can be custom cut to fit any size screen. It is also self-adhesive so all you will have to do is firmly and carefully press it onto your gadget's screen while smoothing it out to make sure it covers all the areas and does not leave any bubbles; there are instructions to help you with this. When you look at this nushield screen protector review, the pros of having it installed on your gadget far outweigh not having one.
The Pros
Will make any LCD screen readable in bright places
Protects the screen from physical damage
Minimizes screen glare significantly
Easy to clean; no fingerprints
The Cons
Requires careful installation to avoid bubbles
May not be a 100 % foolproof solution to glare; some reflection may still persist
Not ideal for use on non-reflective LCD screens
Why You Need a Screen Protector
You may be a bit cynical, as I was, about installing some thin material on your notebook to make the screen more viewable outside, but the results are pretty good. It may not keep all glares off your screen but it does improve visibility and if that is not very important to you, you can consider that it protects the screen as well.
After installation, you will notice the screen puts out better image brightness and is not as reflective when out in the sun. To better assess the difference in having one installed, carry out a simple test with your notebook by checking out a picture with a partially covered screen to see the quality and overall difference it has. You will find that outdoors, the reflective screen will have close to zero visibility owing to the stray light, while the protected screen will have reasonable visibility with low reflective properties and the images will glow making it easier to see them.
What About the Clarity?
Screen clarity is what makes NuShield the leader in screen protection and though some users have difficulty using the super smooth film and the Stylus sometimes requires keen accuracy for graffiti writing, the film does not compromise on protection and color clarity. Reinstallation is also relatively easy for any user, and after having used it for some time, I would recommend it to anyone with a reflective screen.
Installing it on a 24-inch monitor or one bigger may not be as easy as installing it on a phone but the installation process is the same; just try not to let the shield shift and voila, you ca have a much better viewing experience. In addition, once you put it on a computer screen, all the glare that normally shoots out and makes your eyes hurt will be gone, but what is best is that the quality of images and color depth will remain intact.
Every nushield screen protector review points out one thing, it is better to have one installed than not. So, the next time you are out shopping for a PDA or laptop, consider spending a little cash on screen protection too.